You're probably here because you want to make money by selling feet pictures.
That's where FeetFinder comes in.
But what exactly is FeetFinder?
Is FeetFinder legit or just another online scam?
Can you make good money on FeetFinder?
More importantly, is FeetFinder safe?
Many of the FeetFinder reviews online are short reviews on websites such as TrustPilot, which is fine, but they don't go as in-depth as you need them to in order to establish whether you should start selling feet pics on FeetFinder.
With this in mind, I created this article to tell you all you need to know about selling feet pictures online using FeetFinder, including how to get started, what to expect, and, most importantly, how to make money on FeetFinder in 2023.
FeetFinder Review
What is FeetFinder?
FeetFinder is a platform designed for people who either want to buy or sell exclusive pictures and videos of feet.
It was established in 2019 and brings in over 4 million monthly visitors – that's a lot of people buying and selling feet pictures!
As long as you're over 18 and are from the US, Europe, Canada or Australia, you can sign up to FeetFinder today and start making money from selling feet pictures.
Although it might be an unusual way to make money (selling feet pics isn't one of the regular side hustles people do), FeetFinder is totally legit, with a 4.9/5 rating on TrustPilot, weekly payouts, and a great customer service team.
There is also a mandatory verification process when you sign up to make sure that you're not a minor and that you are who you say you are.
Is FeetFinder legit?
Is FeetFinder a scam?
No!
At the time of writing, there were 4306 FeetFinder reviews on TrustPilot, with an overall rating of 4.9/5.
FeetFinder reviews across the board are overwhelmingly positive, with hundreds of satisfied users praising the customer service and confirming that sellers do get paid on time.
Who is FeetFinder for?
FeetFinder is for anyone who wants to make money selling feet pics online, as well as those who want to buy them.
People who buy feet pictures online usually have a foot fetish, and they enjoy admiring pictures of people's feet.
FeetFinder does give buyers the opportunity to contact sellers, requesting specific photos (for example, a picture of your feet where your toenails are painted red).
This means that you'll make more money, because you can always charge more for a custom photo set, and having a good rapport with your customers means that they will come back time and time again.
With that being said, you don't have to interact with anybody on the platform if you don't want to.
However, before you get all skeeved out, you should know that it isn't only people with a thing for feet who use FeetFinder to buy feet pictures.
The types of people who buy feet pictures can include:
Brands looking for foot models. They will often request you take a specific type of photo that they can use in their advertising campaigns
Website owners who blog about shoes, foot health, reflexology and other foot-related content may also wish to purchase feet pictures, and prefer to discuss exactly what they want with a seller rather than subscribing to a stock photo site and hoping for the best
Foot model agencies. These agencies will collect images of all different types of feet that they can then sell to advertisers
With that being said though, the vast majority of people who buy feet pictures on FeetFinder are men who have an attraction to feet, so you should be comfortable with that if you want to start selling feet pics.
You should also be comfortable with posting pictures of your feet online, because although FeetFinder does blur the images before they are purchased, you never know where they are going to end up once somebody has access to them.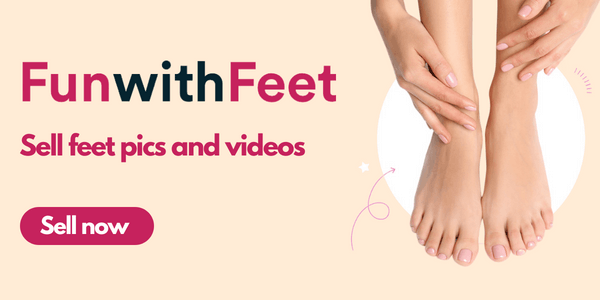 Is FeetFinder free?
FeetFinder used to be free for everyone, but unfortunately, that is no longer the case.
Although buyers can access the site for free, sellers must pay a subscription of $4.99 per month, or $14.99 per year for the basic plan, or sign up to the FeetFinder premium plan, which costs $14.99 per month or $29.99 a year.
FeetFinder also takes a cut of 20% of anything you see, which is actually way below the industry average – similar websites take between 40-80% of the seller's money!
The reason that sellers must now pay to use the platform is that the supply was just so much bigger than the demand, with thousands of people signing up every day hoping to make money by selling feet pics.
The number of sellers vastly outweighed the number of buyers, and so the company chose to charge the sellers for using the service to encourage only those who were serious to create a profile.
But what exactly are you paying for?
Most importantly, your subscription fee and the 20% commission that FeetFinder take pay for your data protection.
The money also goes towards FeetFinder's marketing budget, meaning that FeetFinder can spend more money on marketing the site and pushing your content out there.
They also frequently offer cash giveaways, as well as actually buying content from creators who are active on the platform.
It is interesting to note that with FeetFinder, being 'active' does not necessarily mean making sales, but simply spending time on the platform uploading content and interacting.
How to get started on FeetFinder
Now you know more about FeetFinder as a site, let's go through the steps you'll need to take if you want to sign up.
Create your account
Visit the FeetFinder homepage and click on 'sign-up.' Make sure to click the 'Sell Content' button.
Verify your identity
Let FeetFinder know that you are who you say you are by verifying your ID. You must take two photos, one of your government ID, and the other a selfie of you holding the ID. This allows FeetFinder to verify that you are over the age of 18.
Complete your profile
Next, you are required to submit some basic information, which includes your name, date of birth, age, and email address. Nobody will see this apart from the staff at FeetFinder, so don't worry!
Upload some photos or videos
Your next step is to upload some feet pictures and videos to your profile! FeetFinder has various categories (yes, really!) including high heels, tattoos, nail polish, dirty feet, lotion, socks, and more. They will be blurred for buyers to prevent them from seeing the picture before they purchase it.
How much can you make selling feet pics on FeetFinder?
According to FeetFinder, the average picture sells for 22 USD and the average video sells for 19 USD (which seems like it should be the other way round but hey ho).
The lowest rate that you can actually sell a picture for is 5 USD, so a lot of buyers won't want to pay more than that.
With that being said, if you're successful and have some really dedicated fans, you can make over 100 USD per picture!
The best way to become successful selling feet pics on FeetFinder is by creating a character, and building social media profiles to create a brand for that character.
You need to stand out from the thousands of other people on the site, and the way that you do this is by having fans who found you elsewhere on the web, and came to FeetFinder specifically to purchase your feet pics.
Popular social media sites that adult work thrives on are Twitter, Reddit, Instagram and even TikTok!
You should choose a stage name, create a persona (are you bossy, seductive, bratty, or something else?), and work hard at growing your brand.
The stronger your brand, the more you can charge.
Another benefit of having a strong presence on social media is that FeetFinder actually rewards you for sending other sellers to the platform.
When you recommend FeetFinder to a friend, you can encourage them to sign up with your unique referral link, and if they are successful, you will earn 10% of any sales they make on the site for life.
A great thing about this is that the 10% is not taken from the seller's earnings but rather from the company's fee. This means that your seller friend keeps their 80% cut.
Do you have to pay tax on money you make from selling feet pictures?
Yes, the money you make on FeetFinder is taxable income, and you will have to register with the government as self-employed and complete your own tax returns.
Obviously, the exact rules differ from country to country, but regardless of where you are from, you will still be expected to pay tax.
How to make money selling feet pics on FeetFinder
Most people think that selling feet pics online is easy, but believe it or not, there's actually a lot that goes into it!
Here are my best tips for being successful at selling feet pics on FeetFinder:
Take high quality images. Nobody wants to see your messy bedroom or overflowing trash can in the background, and nobody wants a blurry, low-quality picture. Remember that people are paying money for these photographs, and the quality of them needs to reflect that.
Write detailed descriptions. Although buyers can see a preview of the image, the majority of it is still blurred, and so it is your description that is going to entice them into buying. Describe in detail what the image shows, and really play up to the senses. If you are selling a dirty feet picture, talk about how sweaty and stinky your feet are from your gym workout, and how you've been wearing the same socks for 3 days. The more descriptive you are, the more you'll sell.
Be consistent. Don't throw up a handful of photos and disappear. Post consistently, engage with potential buyers, and take the time to grow your brand on social media. Selling feet pics is not a way to get rich overnight.
Create a compelling profile with a clear description of who you are and what services you offer. Seduce them before they've even seen your store.
Take care of your feet! Your feet are the foundation of your business, so be sure to have immaculate nails, moisturise regularly, and scrub any dead skin away.
Do you have to show your face on FeetFinder?
So many people want to know if they can make money selling feet pics without showing their faces, and while it isn't mandatory to show your face, you will have a much more difficult time making money if you don't.
People aren't just paying to see pictures of feet.
They are paying to see your feet, and the only thing that will make them want to do that is by being present and selling your personality and individuality before you make any actual money.
Trust me, the biggest reason men will choose to buy pictures from one seller over another is the interaction they have and how close they feel to her.
Is selling feet pics legal?
Although most buyers on FeetFinder have a foot fetish, making this an adult service, selling feet pictures is totally legal pretty much everywhere in the world.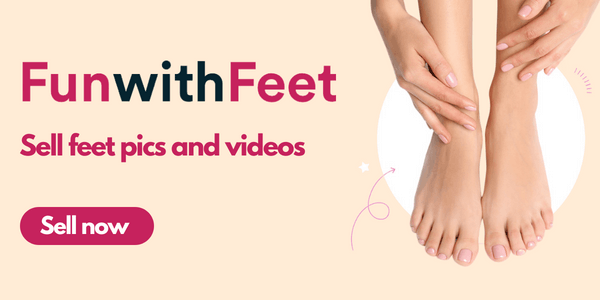 Is there a FeetFinder app?
Although FeetFinder was originally intended to be a mobile app, FeetFinder does not currently have an app on iOS or Android.
The reason for this is that 'fetish' apps are not allowed by Apple or Google.
However, although there isn't a dedicated FeetFinder app, the website layout is really simple and easy to navigate on a mobile device.
How do FeetFinder's payments work?
No FeetFinder reviews out there mention any flaws in their payment system, which is great news!
FeetFinder has partnered with Segpay and Paxum companies, which are incredibly trustworthy and reliable payout platforms that manage millions of transactions all over the world.
United States transactions are managed by Segpay, and the rest are handled by Paxum. Due to its adult nature, FeetFinder is not approved by other online payment platforms like CashApp and PayPal.
Can you sell hand pics on FeetFinder?
FeetFinder is exclusively for feet pics, so you can't sell pictures of anything else on there.
Can guys sell feet pics on FeetFinder?
Yes, guys can absolutely sell feet pics and be very successful on FeetFinder. With that being said, the demand for women's feet pictures is much higher.
FeetFinder Alternatives
Although FeetFinder is one of the biggest platforms for selling feet pics out there, it does have its competitors, some of which are better than others.
One of those competitors is Fun With Feet.
Fun With Feet is another online marketplace that allows you to sell both pictures and videos of your feet.
One benefit of Fun With Feet is its chat function, which enables you to communicate with potential buyers, negotiate prices, and even arrange custom photo sets, among other things. What's great about this feature is that members are required to pay a fee to unlock the ability to chat with you, which helps filter out time-wasters.
Just like FeetFinder, you have to verify your identity when you sign up, and Fun With Feet takes care of the marketing, payment processing, bandwidth, and pretty much everything else you can think of.
Fun With Feet also boasts a rating of 4.2 on Trustpilot, with users praising the customer service team, how user-friendly the platform is, and how easy it is to make money with Fun With Feet.
Fun With Feet costs $9.99 for a 3-month subscription or $14.99 for a 6-month subscription, so on a short term basis, it's actually cheaper than FeetFinder (FeetFinder would cost $9.99 for 2 months). This makes Fun With Feet a great option if you just want to try out the platform for a couple of months and see if it's a good fit for you.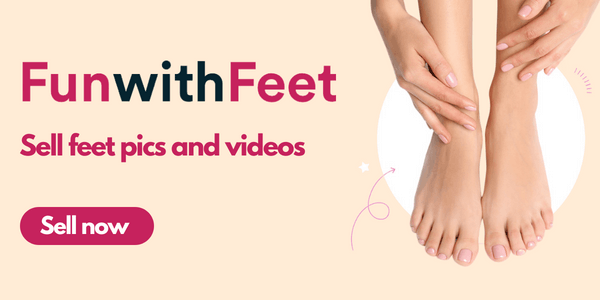 FeetFinder – Final Thoughts
While you won't get rich overnight by selling feet pictures online, FeetFinder is a legitimate website with secure payments, active users and great customer service.
Almost all of the FeetFinder reviews online speak highly about this platform, and so if you're considering making money by selling pictures of your feet, FeetFinder is a great place to start!