Here at Jezebel by Night, we believe that you should never buy lingerie to impress a man. That said, Valentine's Day is somewhat of an exception, and buying lingerie for Valentine's Day is less about trying to seduce some guy, and more about celebrating the love you share with your partner, and how better to celebrate than by dressing up as the absolute fox that lurks just beneath the surface of your everyday look?
Also, who said that Valentine's Day has to be about dressing up for a partner? If there was ever an excuse to treat yourself then Valentine's Day is it, and so I've put together a list of the most sensual and seductive sets on the site to make the task of choosing your Valentine's Day lingerie a little less overwhelming.
Oh, and if you order before February, you will get 21% off your entire order using code JAN21 at checkout 😉
P.S. Just click on the product names or pictures to be taken to the set you like!
Valentine's Day Lingerie – Jezebel's Top Picks
Sensual Lingerie Sets
We are kicking off our list with the absolute staples for Valentine's Day – lingerie sets. Lingerie sets are not only perfect weapons of seduction, but you can also wear them whenever you like! They may not always look practical, but our unlined (and sometimes even unwired!) bras are actually super comfortable and perfect for day to day wear!
Miss Velvet is the quintessential Valentine's Day set. With her ruby red velvet cups, black lace trim and suggestive cut out details, Miss Velvet is guaranteed to heat things up!
Unleash your inner Seductress with Miss Velvet.
Miss Velvet is £24 or £18.96 throughout January with code JAN21
The name says it all with this one. Our Heartbreaker set was just made with Valentine's Day  in mind, either as a gift for somebody else or as a scrumptious little number to wrap yourself up in. The delicate floral lace is decorated with heart shaped peepholes and ribbon bows, making this set both flirty and fun.
To make it even better, it is available in a huge range of colours – black, blue, burgundy, lilac, neon green, pink, red and white! Of course, we're highlighting the red one right now 😉
Our Heartbreaker set is £22 or £17.38 throughout Jan if you use code JAN21 at checkout

Our Caress Me Wrap Set is a seductive two-piece lingerie set made from sensual wine red lace. It's wraparound design will accentuate your curves and make you guaranteed to turn heads.
Caress Me is £18 or £14.22 until the end of January
Our Alina set comes in many different colours but in red, she is fire. Her sexy mesh design leaves little to the imagination, and the suspender belt that comes with two red mesh garters really completes the look, with the front strap design on the bra enhancing your cleavage.
Oft, you'll need to take a cold shower after seeing yourself wearing Alina.
Alina is usually £30 but until the end of January she is just £23.70!

With her sheer 1/2 cups and sensual lace garter belt, Lydia is the seductive gift we never knew we needed. Her detail is simple but intricate, and she is a timeless classic.
Lydia is usually £28 but she is £22.12 with code JAN21
Our floral Peyton lingerie set is perfectly pretty. Sexy and innocent in equal measure, Peyton caters to all tastes, and her floral embroidery is beautiful, adding a touch of feminine romance to Valentine's Day.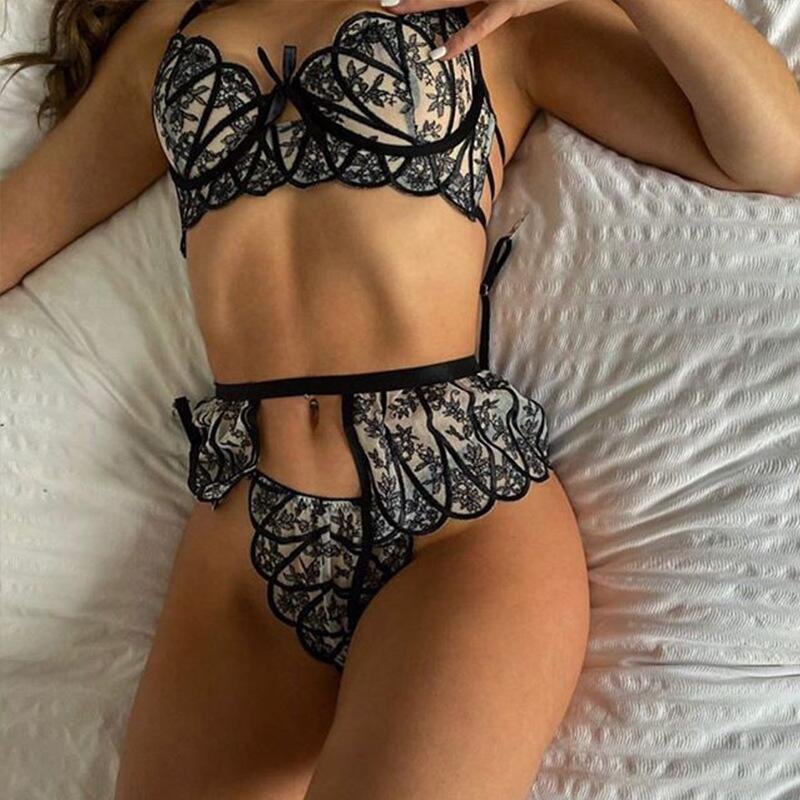 Peyton is usually £28 but she is £22.12 with code JAN21
Arianna is HOT. With her sheer material and alluring bondage strap detail, she will empower you to take control and embrace your inner Domina.
Arianna is usually £28 but she is £22.12 with code JAN21
Zoey is our cheeky baby pink peekaboo set. with her hollowed-out bra and ribbons, Zoey is fun and flirty, and her bows and skirt detail complete the look. You will look like a perfect present wrapped up in Zoey.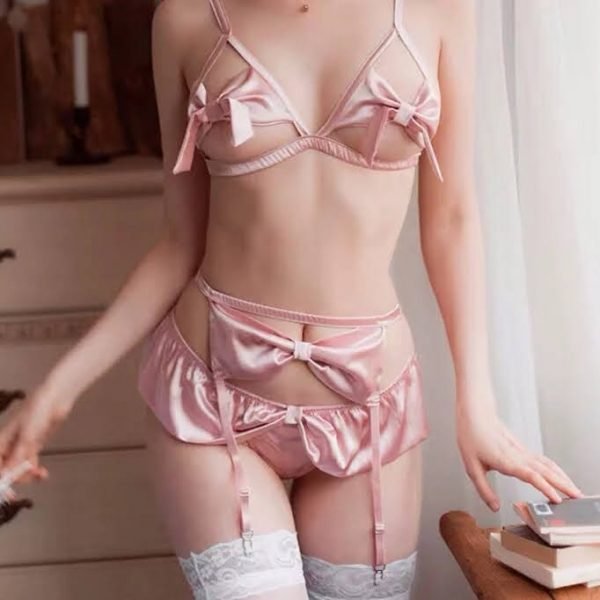 Zoey is usually £27 but until the end of January she is just £21.33 with code JAN21

Scarlett is the definition of 'seduction.' With her push-up bra, red lace garter belt and racy black bondage straps, the attention to detail on Scarlett is simply divine, and she is just what you need to feel like the powerful woman that you know you are.
Scarlett is usually £30 but until the end of January she is just £23.70!
Who needs a gift when you ARE the gift? Gift wrap yourself in Harriet, available in black, white and red for any occasion.
Harriet is usually £24 but she is £18.96 with code JAN21!

Jessica is for the vixens among you. Available in both ruby red and emerald green with high-waisted lace panties and a padded push-up bra to maximise your assets, Jessica has that va va voom that every Jezebel needs.
Jessica is usually £24 but she is £18.96 with code JAN21!
Tamara is pretty and seductive in equal measures. The attention to detail on her is simply exquisite, with her floral lace decorating the body like a work of art.
Tamara is usually £24 but she is £18.96 with code JAN21!
PU Sets
Perfect for any aspiring Domina, our shiny black and red PU (synthetic leather) are guaranteed to empower you and make you feel fierce. From a kinky twist on the traditional French Maid costume to sexy bra and panty sets, we've got it all.
Arielle is an extremely raunchy 3-piece set from the Queen of Hearts collection by Me Seduce. Made from PU wet look material. Arielle is perfect to heat things up in the bedroom. Includes a delicately made bra tailored to fit the chest by using a gold stud to create the cups as pictured.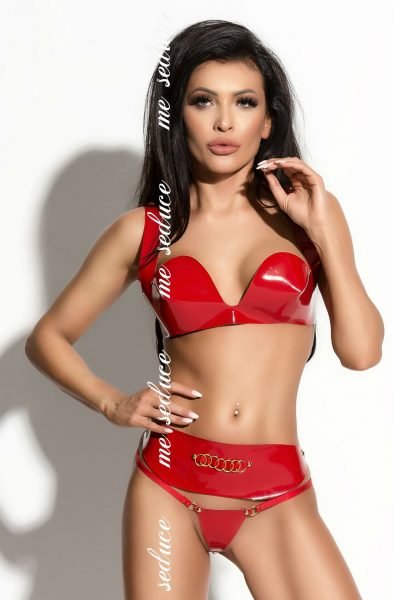 Arielle is usually £64.99 but she is £51.34 until the end of January!

Our 3pc PU chain set with shelf bra and nipple covers is not for the shy amongst you. This stunning and spicy set comes complete with halter neck, metal chains and nipple covers for a kinky and creative look.
Our PU lingerie set with nipple covers is usually £22 but is just £17.38 until the end of the month!

Our PU French Maid costume embraces both the fun of fancy dress and the kinky and naughty feel that comes with shiny PU material. This set is perfect for both parties and roleplay, and adds a BDSM twist to the classic French Maid outfit.

Our PU French Maid set is usually £22 but is just £17.38 until the end of Jan!
Sleepwear and Babydolls
Satin pyjamas and sheer lacy babydolls are the order of the day here, and there's nothing quite like strutting around the house in a floor-length robe and satin babydoll to make you feel glam!
'Grace' is the only name that we could assign to this stunning vintage-style set. Her delicate lace bra and skirt are the picture of elegance, and she is subtle yet sexy. Grace is the perfect set to help you embrace your divine feminine energy.
Our Grace set is usually £28 but you can snap her up for £22.12 until the end of January!

Make going to bed a glamorous affair in our Esme Satin pyjama set. Available in a variety of rich colours and with delicate floral embroidery, Esme is the picture of elegance.

Our Esme set is normally £26 but she is £20.54 until February!

With its elegant lace trim, cinched in waist and satin bow, our dusky pink Glamour Puss romper will add lashings of glam to any evening. All you need to complete the look is a glass of Prosecco and some chocolate truffles!

Glamour Puss is usually £22 but is just £17.38 until the end of Jan!
Our Freya set is the perfect gift, either for yourself or for someone else. Her elegant bra and briefs go perfectly with her red lace robe and ribbon belt. Lounging around the house never looked so glamorous.
Freya is usually £30 but until the end of January she is just £23.70!
Made from 95% cotton, our Angel Face set is breathable and soft and oh so cute. Whether you prefer baby pink or baby blue, you'll look heavenly in this set.
Our Angel Face set is normally £18 but she is £14.22 until the end of January – just remember to use code JAN21 at checkout!

Make lounging around the house a glamorous affair with Diva. This fabulous floor-length robe with faux fur trim and satin belt is guaranteed to make you feel like a true diva, and is quite possibly the most fabulous item we've got! Available in black, white, pink and red.
Our Diva Robe is usually £35 but she is only £27.65 with code JAN21

Eleanor is a delightful baby doll with stunning heart details. Perfect for a sexy sleepover, she is at once both innocent and sensual, and the tulle hearts on each breast make her the perfect Valentine's Day lingerie choice.

Eleanor is usually £24 but she is £18.96 until February
Yua means 'binding love and affection' in Japanese and that is exactly what this set will get you! Impossibly cute, Yua is a cheeky sheer two-piece perfect for bedtime, sleepovers or DDLG play. Available in pink and white.
Our Yua set is normally £18 but she is £14.22 until the end of January – just remember to use code JAN21 at checkout!
So, that just about brings us to the end of our romantic Valentine's Day lingerie picks! There are so many other sexy sets and accessories on the site (need a collar or a satin blindfold, for example?), so if you didn't find what you were looking for on this list, please don't hesitate to have a look around and I'm sure you'll find the perfect piece for you!
Have an amazing Valentine's Day Jezebels. You're going to look unreal.
Disclaimer: while over 90% of our items arrive within 14 days after being processed, sometimes it may take a little longer. At the minute, the pandemic is having an effect on shipping companies globally, and if you are living in the UK then Brexit is also causing delays at customs. Thank you for your understanding.