Wow. 
You guys.
We did it.
We reached 100 freaking orders on Jezebel By Night!!
I don't quite know what to say.
Would now be the right time to say that I started this whole thing almost by accident?
Let's back up a little.
It's summer 2020. I'm in Sicily with my boyfriend, who has just created his own e-commerce store. Being the absolute Kweeen that I am, I'm helping him choose the products, write the descriptions and craft the IG posts, and I find that I'm actually really enjoying it.
I'm surprised.
I'm a travel blogger. I like writing about human rights. I'm not a fashion girl.
Like…at all.
But the challenge of helping to build a business from the ground up?
I loved it.
Night after night, as I struggled to sleep in the Sicilian heat, I found myself wondering – what if I started my own store?
I already knew what I'd sell.
I worked in the online fetish world for a long time, and if my job didn't involve lots of PVC and weird stuff, I'm not sure it would feel right.
And so, the concept for Jezebel By Night was born.
The name came to me almost instantly. My travel blog is named 'Travelling Jezebel' (I also have another blog called Not Your Boss Babe if you're interested!) and I honestly really love the character of Jezebel in the Bible.
I'm not religious but I'm familiar with the story of Jezebel, and I'm even more familiar with how much this bitch has been MISREPRESNTED throughout history.
Jezebel was a goddamn QUEEN.
She was a foreigner in a strange land.
She was somebody who refused to denounce her religion or her culture when it was demanded of her.
She was an outspoken, dominant woman in a patriarchal society.
Jezebel REFUSED to submit to her oppressors.
She fought fire with fire, shrugged off accusations of whoredom and blasphemy and refused to flee when she knew that she was going to be murdered, instead painting her eyes with kohl and styling her hair and waiting patiently.
Jezebel represents defiance. 
She represents dominance.
She was the original bad bitch, and you guys wanna sit and say how being a Jezebel means that you're a whore? Take a goddamn seat Sir!
Even if being a Jezebel did make you a whore, so what?
RECLAIM YOUR BODIES LADIES.
If Jack calls you a whore because you wouldn't sleep with him but he saw you kissing James instead, then Jack is a little bitch.
Why are we even listening to what Jack says?
I believe that the world needs more Jezebels.
The world needs more women who don't GIVE A DAMN about what society says, or what names the haters come up with to try and nurse their fragile egos.
Girls. Boys.
If you wanna strut around your house in a PVC bodysuit and floor-length faux fur robe, YOU DO YOU.
If you want to pop to the corner shop wearing such attire, even better.
THAT, guys and gals, is what Jezebel By Night is all about.
Okay, I digress.
(But if you want to read more about Jezebel and what JBN stands for, check out our About section).
My point is that I was not prepared for this.
I created an Instagram account for Jezebel By Night in October 2020 and spent a month building a small following.
I worked on the website and added over 150 carefully selected items to the store.
Then, in November, alone in my apartment in Italy with a bottle of Prosecco and a belly full of nerves, I clicked the 'launch' button on my site.
I went live on Instagram.
I sat back, I downed a glass of Prosecco and I watched my Google Analytics.
And then, disaster happened.
My best friend texted me to say that the prices were showing up in the wrong currency.
Panicking, I tried to fix it.
I changed one of the settings on my currency plugin.
Guys.
THE PRICE OF EVERY SINGLE ITEM ON MY WEBSITE CHANGED.
Instead of showing the price that I had set, the prices that I pay my supplier were showing.
Now, it isn't such a big deal for people to know what I pay.
I'm pretty sure I mark my prices up less than every bloody shop out there.
For context, I pay about half of what you pay.
I then have to pay import tax (for example an extra 20% if you're in the UK).
I then pay for shipping, followed by payment processing fees (between 0.50 and 2.50 per item).
That's before income tax and before discounts lol.
Every new customer gets a 15% discount. Everybody buying via an influencer gets a 15% discount.
People buying through a sale get anywhere from 20-40% discount.
The profit margin is not that large.
So then, I wasn't ashamed if people knew how much the stock is marked up.
What I WAS worried about, is that I had 200 people browsing the site at the same time, and if ANY of them decided to buy something (with their damn 40% launch discounts), I'd be literally paying them, lmao.
Not ideal.
I took my site offline, rang my boyfriend in tears, shouted at him when he told me not to worry, and proceeded to manually adjust the price of every. single. item.
It took me 4 hours and a lot more Prosecco.
I re-launched the site at 2am.
My point is that it has not been easy, lol.
Over the last 7 months, I've had my challenges, and I've made my fair share of mistakes.
Tonnes of influencers have ghosted after I've spent money on sending them lingerie.
A hosting issue meant that my website was down for an entire day (without my knowledge) when I'd just paid for Facebook ads.
I accidentally sent the wrong item to a girl who was buying something to wear on Valentine's Day (I still feel bad about that one!).
I realised at the end of Pride month that I'm a business who did absolutely nothing for Pride – as this is my first year as a business, the thought literally didn't even enter my head until it was so late that it would have been an insult.
A girl got really angry with me because she tried on some fishnet panties that didn't fit, and I told her that she can't return them because…y'know…she tried on panties (okay, I still don't think that I'm in the wrong on that one).
Point is, there are lots of things that I could have done better.
And I will
However, there are also things that I'm really proud of (er…100 orders, hello?!).
I got multiple repeat customers. This is a huge one for me, because if someone is happy enough to order 2, 3, or even 4 times from me, then that means I'm doing something right.
I got multiple big orders. My first one was from a music artist in London who bought about 20 items from my store because she was making a music video. Seeing her wear JBN in her music video and post countless pics on IG wearing things from my store was insane. 
I grew an email list! Although I've been a blogger for 5 years, I've never bothered growing an email list, and so this was really new to me. I'm currently on 222 subscribers, which I'm really happy with.
I worked with some incredible influencers, and even got lucky enough to have Lauren Burch promote me (she's kiiiind of a big deal over on TikTok), with her sister Julia's posts pending.
I created a blog section on JBN and ended up ranking on the first page of Google for my chosen keywords.
I got tonnes and tonnes of emails and direct messages from happy customers saying that they're thrilled with their purchases.
(I saved the best till last bc that sh!t genuinely MAKES MY GODDAMN DAY).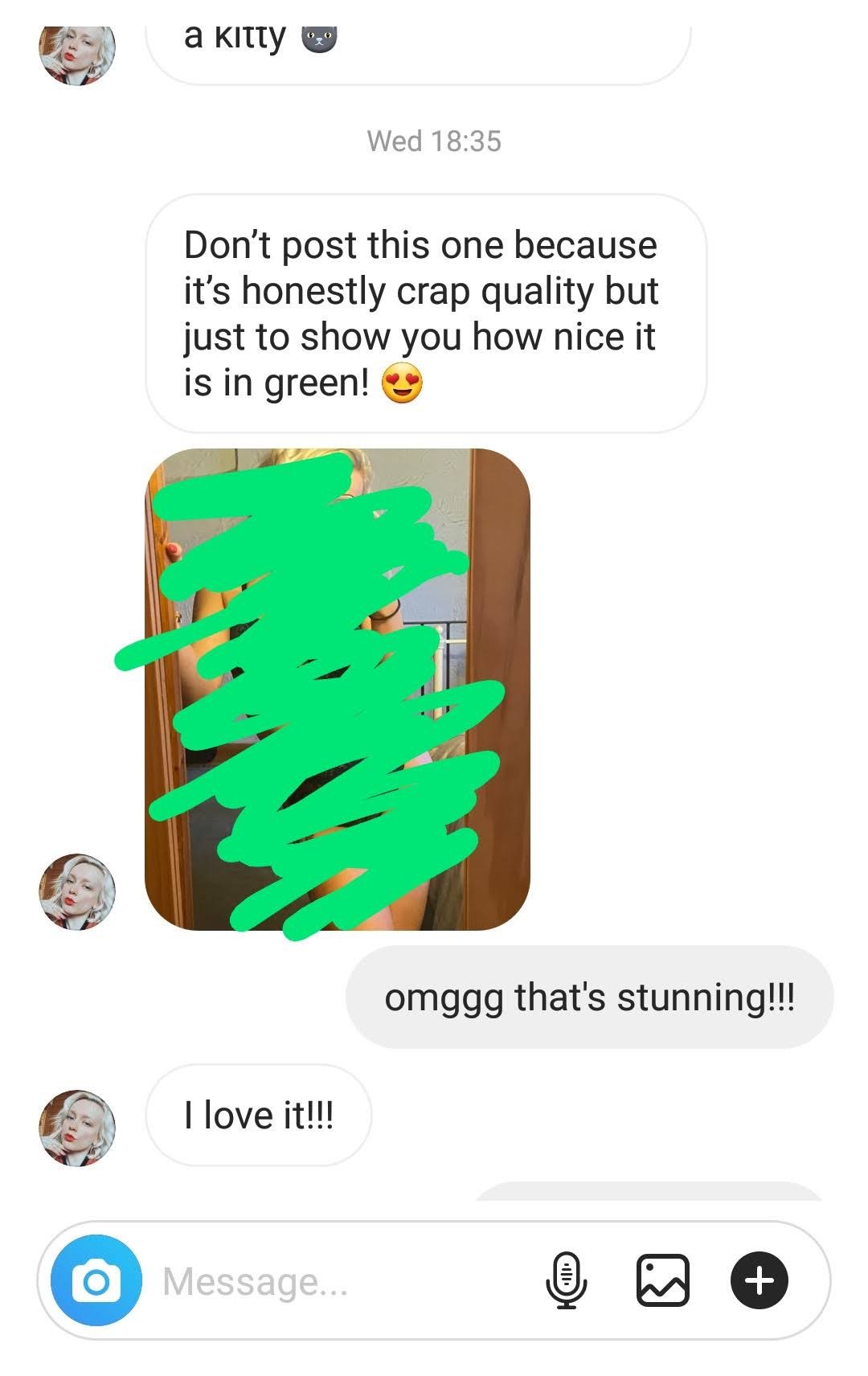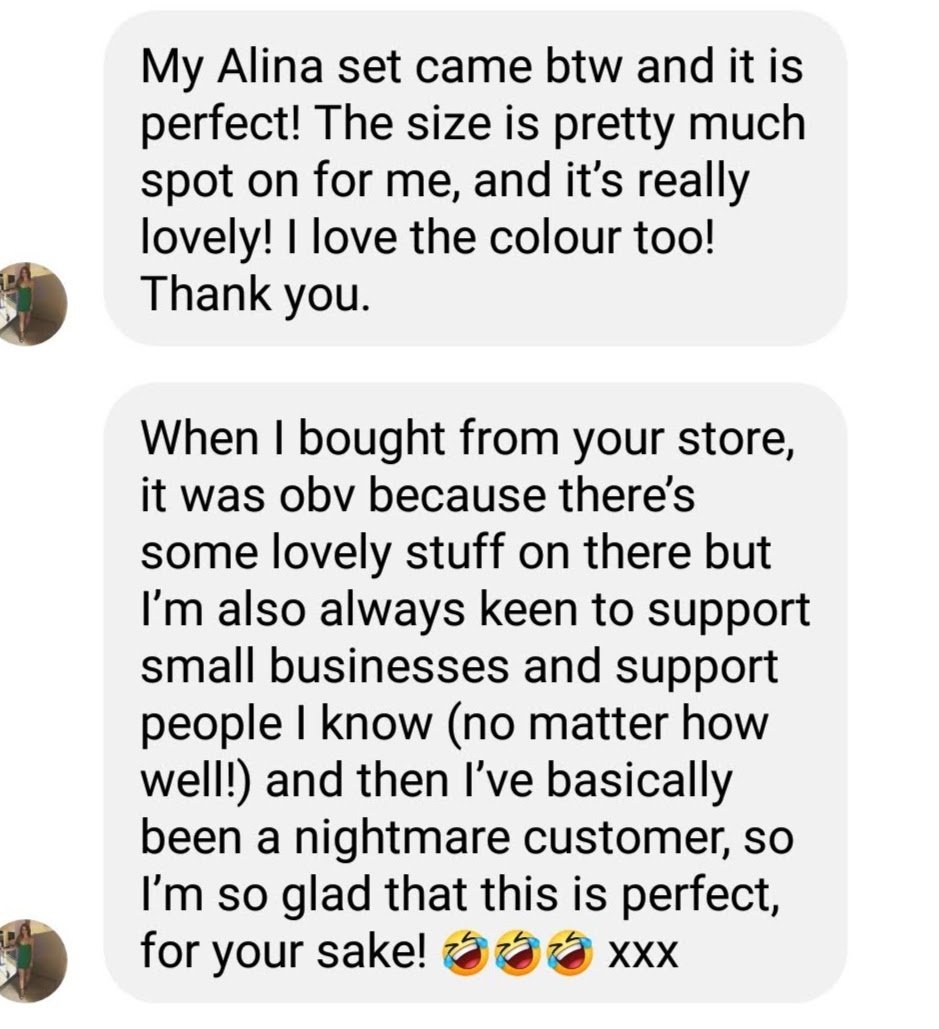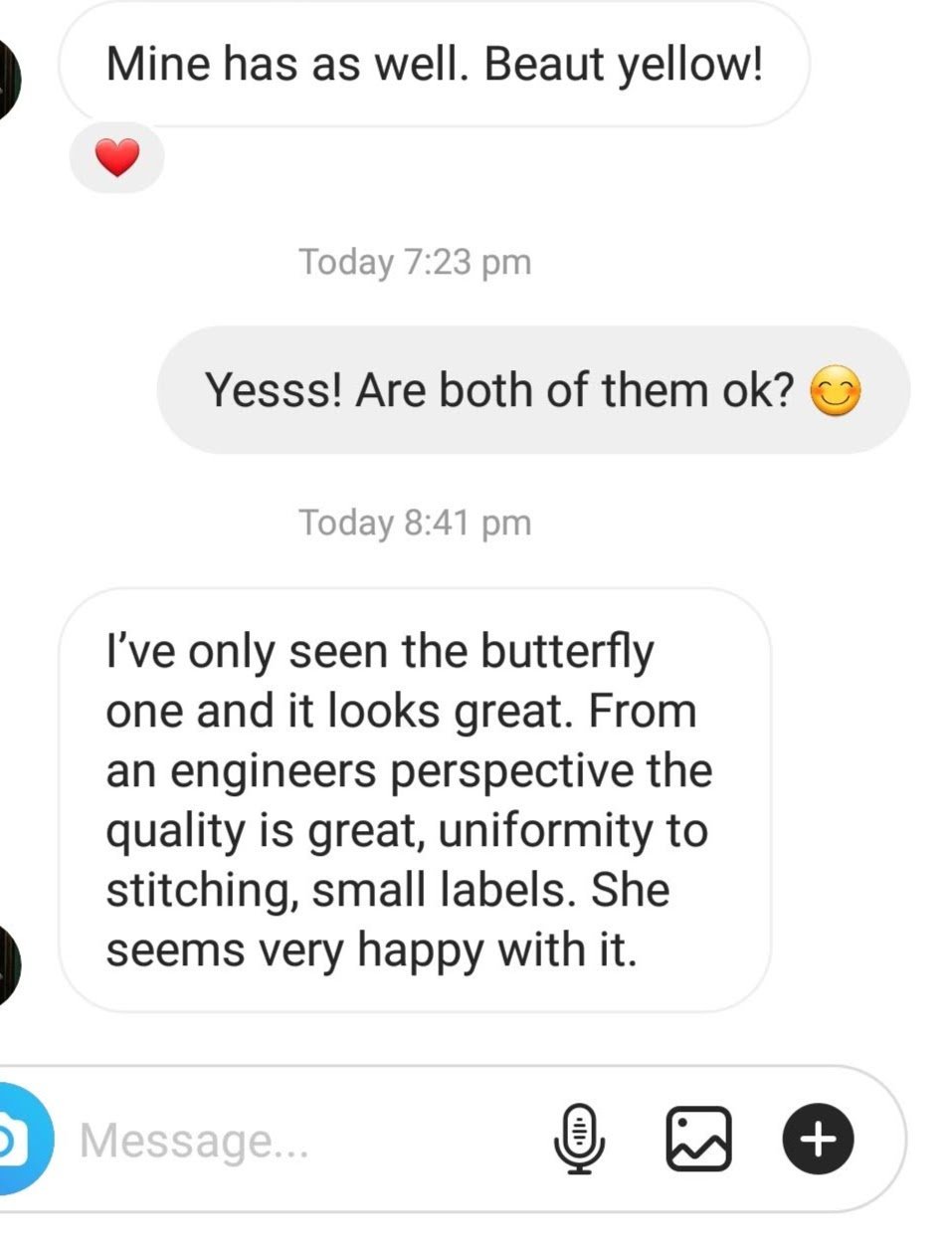 I definitely don't have an album full of lovely screenshots like this… (I'm lying. I'm so lying.)
I guess what I'm trying to say is that I'm proud, I'm happy, and I genuinely bloody love every single person who has helped me get to where I am.
I'm still a baby store and this is still technically a side hustle (it definitely doesn't pay the bills lol), but every single order makes me so incredibly happy that I just had to acknowledge it here.
You guys are the best and ilysm.
Now, I'm off to the pub to get very very drunk,
Have a great weekend Jezebels!!