There's something about French Maid costumes that just never fails to radiate sex appeal and sass, and call me old fashioned, but I just don't think French Maid lingerie will ever go out of style.
Not only a Halloween staple (I still have an old Ann Summers French Maid's dress covered in fake blood somewhere at the back of my wardrobe), French Maid costumes are also a great go-to in pretty much any situation, whether you're a cam girl in need of some new 'fits, a submissive man with a kink for cleaning, or you fancy introducing a bit of roleplay into the bedroom.
French Maid lingerie can come in many different forms, from kawaii and cute to provocative and cruel (anyone with a PVC fetish reading this?), and here at Jezebel by Night, we love all of them equally.
We are well into spring now, and if you haven't already grabbed a feather duster and got on with your annual spring clean, then what are you waiting for? I've rounded up our best picks for French Maid lingerie on the store, because hey, life wouldn't be very much fun without a little dress-up from time to time, would it?
French Maid Lingerie – Jezebel by Night 11 Best Picks
Take dressing up to the next level with our Isabel 5 piece Maid set. Isabel comes with a chequered blue and white top with puffy sleeves, mini skirt (it ties at the back to make you feel extra cheeky), silky apron, headband and thong. Isabel really is the complete set and her baby blue and white gingham print are an innocent twist on the classic black and white style.
Our PU French Maid lingerie set is worlds apart from the innocent Isabel! This raunchy costume combines the fun of fancy dress with the kink and naughtiness that comes with shiny PU material. Comprised of a PU crop top, mini skirt and ruffled lace choker, this set is perfect for both parties and roleplay and adds a BDSM twist to the classic French Maid outfit.
Our Baby Blue Maid set is impossibly cute. A bandeau-style crop top with frilly lace trim and satin ribbons is the perfect choice for the high-waisted gingham mini-skirt and apron. This French Maid lingerie set also comes with a white frilled collar with silver bell, so everybody will know when you're hard at work!
We're taking kawaii to the next level with this crushed velvet baby pink number. This five-piece set is as cute as a button, and so will you be when you put it on! The playful baby pink colouring adds a kawaii twist to the classic B&W style, and the feather duster is the perfect accessory to complete the look. For £30, you will receive a stunning baby pink bodysuit, silky apron, headband, collar and feather duster – what more could you possibly need?!
Our Kawaii Maid Outfit is just that – super kawaii! The pink chiffon skirt functions as an apron, with front and back panels covering your modesty and allowing your white thong to peep out at the sides. 
Our four piece French Maid's costume is classy and chic and effortlessly sexy. With a backless design and large white satin bow, she stands out from the other French Maid's costumes out there, and she doesn't compromise on detail, with ribbons and frills adding to her girlish charm. This stunning dress comes complete with white apron, black thong and frilly headband.
When it comes to French Maid lingerie, you can't get better than this! Our Kawaii French Maid Lingerie set skips out on the dress and apron entirely, instead bringing the look to this gorgeous little lingerie set, which is available in either black or white. This set is super fun and flirty, and with frills, bows and beaded detail, you will look just the part!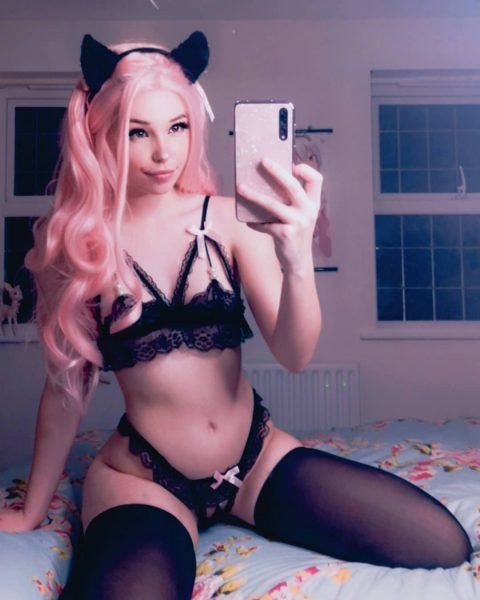 This dress has the timeless A-line skirt style and cinched waist, but with sexy PVC to give it a kinky twist. Perfect for costume parties and roleplay, this is a versatile dress that you are guaranteed to love.
Room service anyone? This white set is hot! Barely leaving anything to the imagination, this sensual white set is sure to get pulses racing, and the cinched waist and crossover straps at the back only add to its charm.
With six pieces included in this set, you can go as all-out as you want! In shiny PVC material with white lace trim, this is another wetlook style that will really kick your French Maid lingerie game up a notch. Wear the full attire, or simply pair the headband, collar and garter with the string bra and thong for an even sexier time.
Everyone loves a PVC teddy, and we're no different here at Jezebel by Night. The best bit about this set is that the actual teddy itself is plain, meaning that if you want to ditch your feather duster for the night and indulge your Domina side, you can just untie the apron, take off your choker and go! That said, if you do want to be the Belle of the French Maid ball, the combination of raunchy teddy and girlie satin apron is a winner.
So, that's it for our French Maid lingerie picks! As a thank you for making it this far, we've decided to give you a cheeky little discount code that will knock 20% off any of the pieces on this list! Just add MAID20 to the box when you get to checkout and your discount will automatically be applied!
Now, if you'll excuse me, I think I have some dusting to do…