Woohoo! Spring is finally here! We don't know about you but we are MORE than ready for warmer days, shorter nights, and long strolls in the countryside, picnics in the park and fruity ciders. The beer gardens may not be open yet, but you can still welcome in the new season by filling your knicker drawer full of pretty floral lingerie that will really put a 'spring' in your step (pun intended).
Here at Jezebel by Night, we believe that wearing the right lingerie can work wonders for your confidence, and a change of season is always cause to treat yourself.
With this in mind, we've rounded up our best spring picks from the entire store to have you looking (and feeling) like a midsummer night's dream this spring. We have floral pyjamas, floral lace teddies, floral lingerie sets and lots of delicate lace and pastel colours to ensure you look as pretty as a picture this spring.
Just click on the product names or pictures to be taken to the set you like!
Psst – stick around to the end, because there will be a cheeky discount code waiting for you!
Jezebel by Night Spring Picks
Floral Lingerie Set
Any 'top picks' list for a lingerie store has to start with the obvious – lingerie sets. We have everything from simple two-piece sets to three-piece sets with matching garter belts, and even five-piece sets with detachable garters! You'll be spoilt for choice with our floral lingerie sets.
Our Nymph set is impossibly delicate and pretty. The sheer white bustier with embroidered floral design is perfect for both underwear and outerwear. The Nymph set is floral embroidered lingerie at its finest.
Avery is fun, flirty and feminine. Her embroidered floral detail on both the panties and bra make her extra special, and her pretty pink colouring will add a splash of joy to even the dullest days.
Brooklyn is an elegant floral lingerie set with delicate applique flowers, floral embroidery and stunning sheer cups without lining. She is available in both baby pink and baby blue, and is just as beautiful in both! Embrace your divine feminine with Brooklyn.
Our Hyacinth embroidered floral lingerie set comes in a choice or white or black, but we think that Hyacinth in white is the perfect choice for springtime lingerie. Featuring a cupped bralette with satin binding, baby blue and pink embroidered floral detail and high-waisted cheeky cut-out knickers, she is both feminine and flirty.
Eloise is feminine and fiery at the same time, with her dainty floral embroidery complimenting her racy red colouring. Her unlined push-up bra will flatter your natural shape while giving you a killer cleavage. Show that you can be girlie and foxy at the same time with Eloise.
This stunning black and blue floral lace set encompasses everything that is elegant about the world, while providing maximum comfort. Made from sensual floral lace with satin ribbons, Isabel is comprised of an unlined triangle-cup bralette, suspender belt with black ribbon and tanga-style thong bottoms, Isabel is flirty enough for spring while remaining dark and mysterious.
If you're looking for a floral lingerie set, look no further than Peyton. Our Peyton lingerie set is perfectly pretty. Sexy and innocent in equal measure, Peyton caters to all tastes, and her floral embroidery is beautiful.
Isabella is classy, elegant and the picture of innocence. With her delicate floral design, pink silk ribbons and soft and breathable cotton material, she is simply stunning.
Okay, so our Strawberry Set maaaay be more of a summer vibe, but we couldn't resist including her on this list. Our Strawberry Set is super sweet, and so will you be when wearing her! Her pink and white checkered pattern takes us back to the summer dresses of our childhood, and the strawberry detail makes her all the sweeter.
Gigi is simply fabulous, and she makes us want to parade around in nature and dance in the sunlight. She is the height of femininity with flowers, lace and frills, and she encompasses the divine feminine energy.
We called this one Fliss 2.0 because she is just like our Fliss butterfly set, but even more fun! With this choker-style harness collar that turns into a suspender belt (complete with garters!), Fliss 2.0 has it all. And besides, what says 'spring' more than butterflies?!
Eliana is fabulous in every colour, so much so that we want to collect them all! With her floral lace, push-up bra and cheeky panties, she is sexy, flirty and cute. Eliana is available in turquoise, blue, hot pink, red, yellow and purple.
Floral Bodysuits
We love bodysuits because they can be worn as underwear or outerwear, and here at Jezebel by Night, we will always advocate for sensual outerwear! Here are our top picks if you're looking for floral bodysuits this spring.
Available in baby blue or wine red, our Ayla Floral Bodysuit is impossibly pretty. With floral embroidery, delicate ties at each side and a sheer mesh front panel, Ayla is perfect for both inside and outside the bedroom.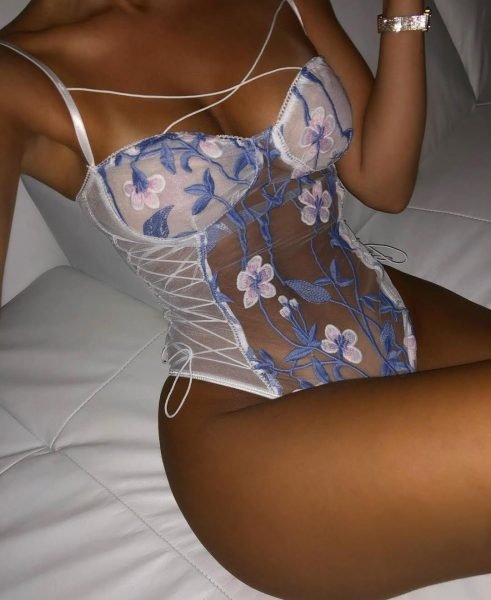 Made from sensual lilac lace with floral detail, Remi is delicate, dainty and perfect for both inside and out. More understated than some of our other picks, Remi is a demure delight.
Felicity's embroidered butterfly design is pretty and elegant. Her unlined bra flatters your natural shape, highlighting your feminine assets and the ties can be adjusted to your preference. Felicity is available in dusky pink or powder blue and grey.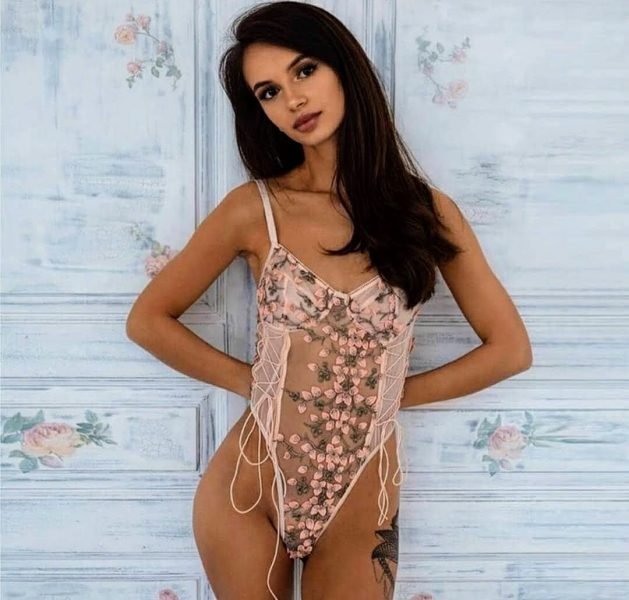 We got super imaginative with the name on this one! Fleur is a floral embroidered bodysuit with a sheer polka-dot lace body which gives her an unusual twist on the classic floral pick. Her cinched in waist and unlined bra flatter your natural shape, highlighting your feminine assets.
We couldn't write a post about spring without giving a nod to all the Bunny Girls out there! Make your Easter extra special with our Velvet Bunny Girl Set, which is perfect for fancy dress parties or play. With her baby pink fitted body as well as collar, cuffs and ears (and of course her adorable bunny tail), she is everything you need to channel your inner Playmate.
Floral Pyjamas and Nightwear
Our kawaii Cherry Blossom satin robe is simply delightful. Perfect for cosplay or lounging around the house, it is pink, pretty, and guaranteed to make you feel divine and prepared for spring.
We are all spending more time at home these days so why not lounge in style in our Floral Haori Robe? This silky feminine robe is all you need to step up your lockdown look, and is perfect to bring in springtime.
I promised you floral pyjamas for spring, and floral pyjamas I shall deliver! Make going to bed a glamorous affair in our Esme satin floral pyjama set. Available in a variety of rich colours and with delicate floral embroidery, Esme is the picture of elegance.
Our Hippy Chick floral romper is almost too pretty just to wear to bed! Make the most of staying home by looking like a delicate flower and feeling super comfy to boot in this gorgeous piece.
So, that brings us to the end of our Floral Lingerie Jezebel by Night picks! We definitely have other springtime beauties on the store (maybe this Bunny Girl teddy or this kawaii cherry blossom bodysuit, by any chance?), but these ones were our absolute floral faves.
And, as a special thanks for reading the JBN blog, we've made a cheeky little discount code just for you! Just enter the code SPRING10 at checkout for 10% off your entire order! This discount will not just work on our floral lingerie; it's storewide (excluding sale items), so what are you waiting for?